Lab Occupancy Tracking
Projects | | Links:
Track personnel as they return to campus/work during the pandemic
As we enter new phases of reopening research and work spaces, we are often tasked with tracking lab usage but are not given the tools to do so. Here is a google spreadsheet with scripts and triggers to do just that. With these tools, you can:
Input current limits (Anschutz Campus currently allows 50% of a lab's personnel to return to work)
Input a list of approved Personnel and labs
Users then use a google form to sign in/out. This can be easy and touch-less via shortened url links and 2D bar codes allowing personnel to check in on their phones
The system will calculate labs that violate their limit and track usage over time
When a person signs in, bringing a lab over it's limit, the violator and appropriate admins (Covid Officers) are automatically notified by email
If a person works too long or forgets to sign out (14 hr), they are notified by email to go home and get some sleep or remember to sign out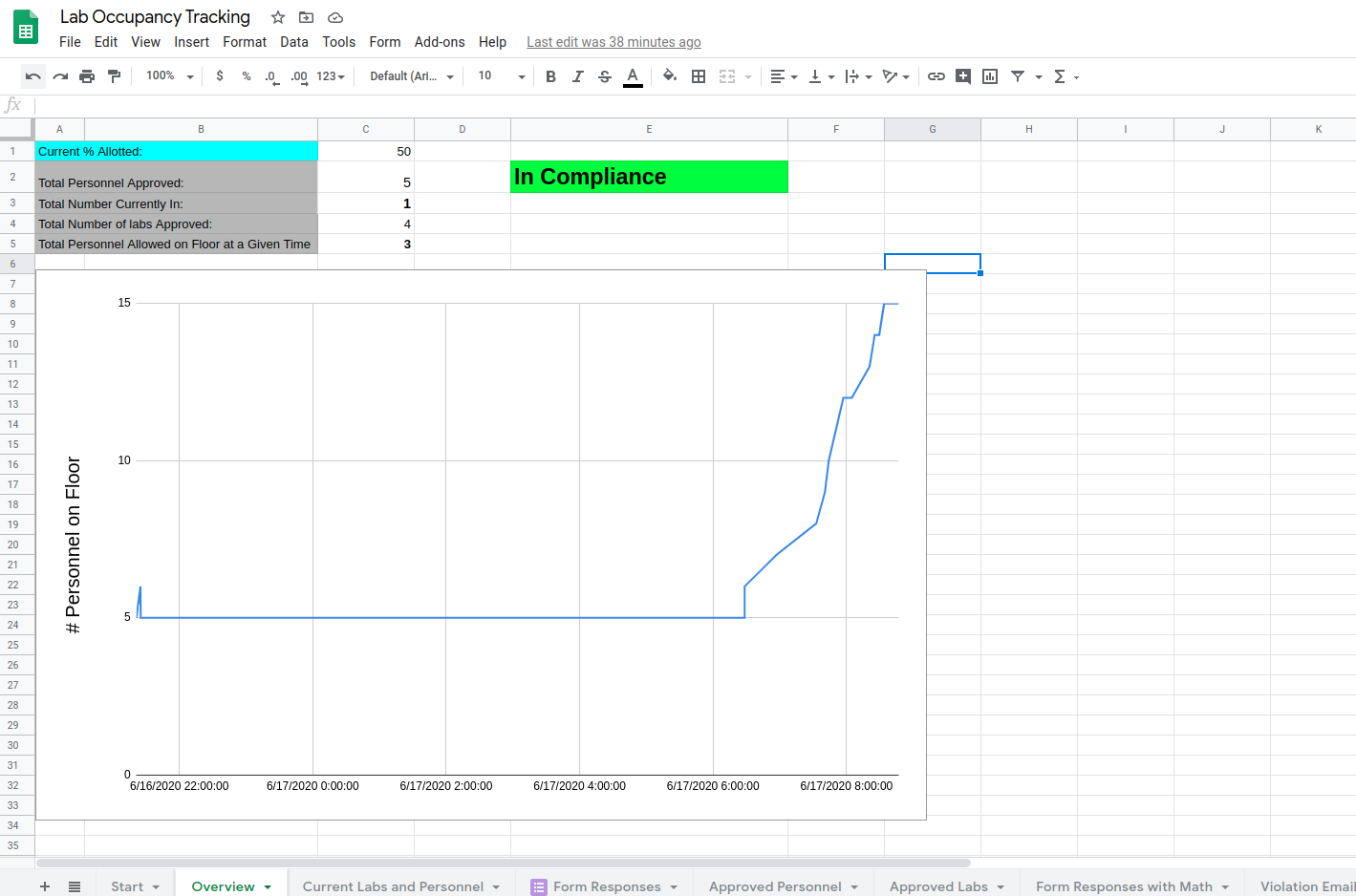 Instructions for adapting this for your lab/floor/research building are well documented in the Start Tab of the google sheet. Begin by clicking here.
Email Us with questions.
Many thanks to Anthony Peng and Nathaniel Greene for their HUGE contributions (this is mostly their work).
---
ONE Core Acknowledgment
Please acknowledge the ONE Core facility in your publications. An appropriate wording would be:
"The Optogenetics and Neural Engineering (ONE) Core at the University of Colorado School of Medicine provided engineering support for this research. The ONE Core is part of the NeuroTechnology Center, funded in part by the School of Medicine and by the National Institute of Neurological Disorders and Stroke of the National Institutes of Health under award number P30NS048154."